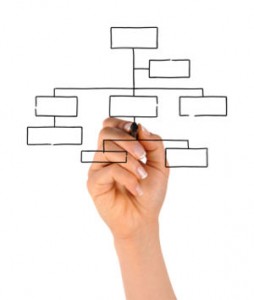 Over the last few weeks I have been evaluating our current Children's Ministry.  We have come to recognize the need to add some additional programming to insure our students are getting what they need to grow spiritually.  With the new plans there comes additional layers of ministry structure. As a part of this process we recognize that we will  have new positions to fill.  With that in mind I felt a clearly identifiable Organizational chart would be beneficial to everyone involved.   Continuing with the idea of sharing what I am doing to create and implement these new programs this fall I have included a copy of our Children's Ministry Organizational Chart.
Now, don't let the chart fool you…keep in mind that currently I am the only paid Children's Ministry staff and the Admin Asst included on the chart also doubles as our church receptionist.  That means for now each of these roles will be filled by volunteers and recruiting NOW is going to be the key to success this fall.
Take a look a the chart and feel free to ask questions or comment.  I would also love to see how you organize your ministry!
Check out Bible Stories for Children