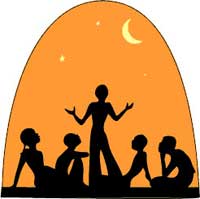 Do you tell stories? When we teach our goals include helping our audience understand the material and moving them to action.  When we tell stories we are using one of the best ways to communicate to our children.  Storytelling has historically been one of the primary ways culture and values have been passed from generation to generation.  A ministers to children we have one of the greatest stories every told and sometimes we forget how powerful a well told story can be to our children.  So here the Top Ten Reason we should be telling stories often:
10. Storytelling is an art form
9.   Storytelling helps develop our creativity
8.   Storytelling is fun
7.   Storytelling will engage our audience
6.   Stories are memorable
5.   Storytelling can help children grasp difficult concepts
4.   Stories can have emotional impact on the listener
3.   Stories help children relate to their world and their culture
2.   Storytelling can motivate the listeners to action
1.   Storytelling is one of the primary ways that Jesus taught
Elements of a Good Story:
All stories have a setting, characters, a conflict, and a resolution.
When: The time can be the past, the present, or the future.
Where: The location can be a specific location familiar to a child, or a type of place, such as a school, a store, a house, a mountain, a jungle, a farm, or a desert (that's where I live). The location can be a city, a country,
Who: Characters can be people, animals, plants or objects. The protagonist should be a character a child will want to succeed and with whom a child should be able to identify.
Conflict: Interesting plots include problems that children have experienced which can be resolved with virtues such as determination, hard work, honesty, perseverance, intelligence, ingenuity and faith.
Resolution: In order to build a child's sense of security, the ending should be happy and unequivocal.
So, how often are you using the power of good storytelling? What is the best story you ever heard?  What is the best story you ever told?  Let's make 2011 a year of great stories!